Management y Liderazgo en las Pymes de la ciudad de Manta – Ecuador
Management and Leadership in Smes in the city of Manta - Ecuador
Palabras clave:
Management, liderazgo, inteligencia emocional, cultura de innovación, comunicación corporativa
Resumen
Actualmente, las PYMES indagan sobre las prácticas de liderazgo como parte de la gestión organizacional. El liderazgo ejerce influencia sobre los subalternos, y los líderes se convierten en responsables del éxito o fracaso empresarial. Por lo tanto, para generar cambios, fortalecer procesos, y lograr resultados, es necesario contar con líderes que gestionen adecuadamente el cambio. El presente trabajo, luego de la revisión de la literatura relacionada, muestra un estudio sobre la incidencia que tiene el management y el liderazgo en la gestión de las PYMES de Manta, considerando una investigación de tipo exploratorio no experimental y de carácter transversal, mediante un estudio cuantitativo con la aplicación de encuestas. Los resultados determinan que las PYMES conocen la importancia del liderazgo en el rendimiento del personal, y el éxito en el cumplimiento de las metas. Las habilidades de comunicación, confianza, respeto, y motivación aumentan la garantía de lograr los resultados esperados.   Palabras Claves: Management, liderazgo, inteligencia emocional, cultura de innovación, comunicación corporativa. Códigos Jel: M10, M12, M19, M14, M15   ABSTRACT Currently, SMEs inquire about leadership practices as part of organizational management. Leadership influences subordinates, and leaders become responsible for business success or failure. Therefore, to generate changes, strengthen processes, and achieve results, it is necessary to have leaders who adequately manage the change. The present work, after reviewing the related literature, shows a study on the incidence of management and leadership in the management of SMEs in Manta, considering an exploratory, non-experimental and cross-sectional research, through a quantitative study with the application of surveys. The results determine that SMEs know the importance of leadership in staff performance, and success in meeting goals. Communication skills, trust, respect, and motivation increase the guarantee of achieving the expected results.   Keywords: Management, leadership, emotional intelligence, culture of innovation, corporate communication. Jel Codes: M10, M12, M19, M14, M15
Citas
Aga, D., Noorderhaven, N., & Vallejo, B. (2016). Transformational leadership and project success: The mediating role of team-building. International Journal of Project Management, 34(5), 806-818.
Aguiari, L. (2016). Le competenze e le abilità relazionali e di leadership del nuovo Chief Communication Officer.
Ali, N., Jangga, R., Ismail, M., Kamal, S., & Ali, M. (2015). Influence of leadership styles in creating quality work culture. Procedia Economics and Finance, 31, 161-169.
Azcona, M., Manzini, F., & Dorati, J. (2013). Precisiones Metodológicas sobre la Unidad de Análisis y la Unidad de Observación. Aplicación a la Investigación en Psicologia. Instituto de Investigaciones en Psicología (IniPsi), 67-76.
Barrett, D. (2006). Leadership communication: A communication approach for senior-level managers.
Bass, B. (1985). Leadership and performance beyond expectations. New York: Free Press.
Casas, J., Repullo, J., & Donado, J. (2002). La encuesta como técnica de investigación. Elaboración de cuestionarios y tratamiento estadístico de los datos. Sinesio Delgado, 527.
Cortés, M., & Iglesias, M. (2004). Generalidades sobre Metodología de la Investigación. México: Universidad Autónoma del Carmen.
Dilenschneider, R. (2003), "Comunicazione come decisivo esercizio del potere. Il manuale del leader in azienda, in politica, in società", Bompiani.
Goleman, D. (2012). Inteligencia emocional. Editorial Kairós.
Hatch, T., & Gardner, H. (1993). Finding cognition in the classroom: An expanded view of human intelligence. Distributed cognitions: Psychological and educational considerations, 164-187.
Madanchian, M., Hussein, N., Noordin, F., & Taherdoost, H. (2017). Leadership
Malhotra, J. (2008). Investigación de Mercados. México: Pearson Educación.
Mazzei, A. (2011). "Percorsi di ricerca in comunicazione d'impresa. Tendenze, contesti, gestione", Francoangeli, Milano.
Morris, L. (2007). Creating the Innovation Culture: Genuises, Champions, and Leaders.
Nogales, A. (2004). Investigación y Técnicas de Mercado. Madrid: ESIC.
Quaglino, G. (1999). Voglia di fare. Motivati per crescere nell'organizzazione. Guerini e Associati Editore.
Robbins, S., & Hunsaker, P. (2011). Training in interpersonal skills: Tips for managing people at work. Pearson Higher Ed.
Ruck, K. (2016). Informed employee voice: The synthesis of internal corporate communication and employee voice and the associations with organisational engagement. Doctoral dissertation, University of Central Lancashire.
Sanders, J., Hopkins, W., & Geroy, G. (2003). From transactional to transcendental: Toward an integrated theory of leadership. Journal of Leadership & Organizational Studies, 9(4), 21-31.
Walpole, R. & Myers, R. (1996). Probabilidad y Estadística. 4ª. ed. Ciudad de México, McGraw-Hill.
Wang, X., & Howell, J. (2010). Exploring the dual-level effects of transformational leadership on followers. Journal of applied psychology, 95(6), 1134.
Yıldız, S., Baştürk, F., & Boz, İ. (2014). The effect of leadership and innovativeness on business performance. Procedia-Social and Behavioral Sciences, 150, 785-793.
Zugaro, E., & Zugaro, C. (2017). The Listening Leader: How to drive performance by using communicative leadership. Pearson UK.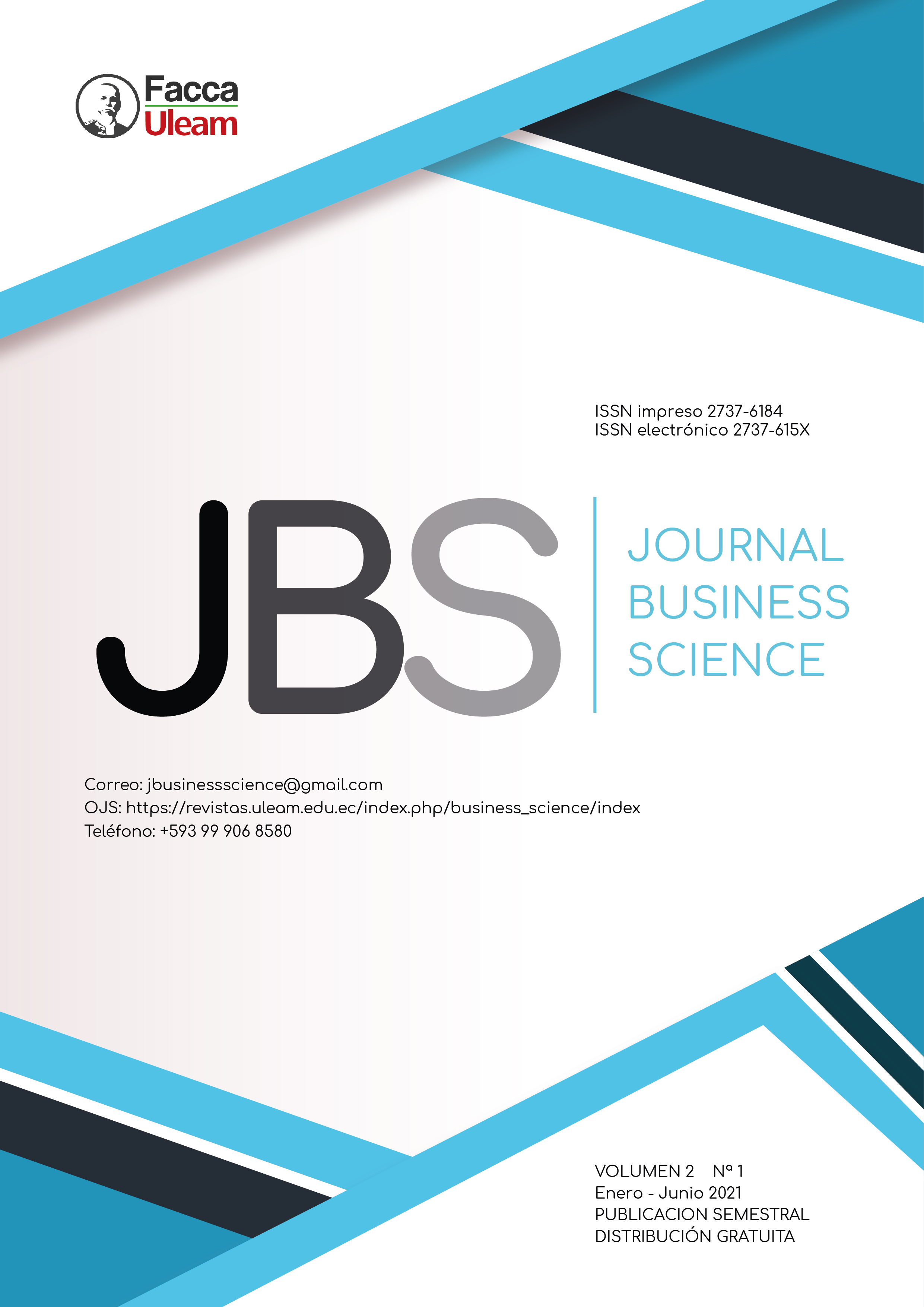 Cómo citar
Pinargote Montenegro, K., & Vidal Fernández, P. (2021). Management y Liderazgo en las Pymes de la ciudad de Manta – Ecuador. Journal Business Science, 2(1), 1-21. Recuperado a partir de https://revistas.uleam.edu.ec/index.php/business_science/article/view/72
Sección
Artículo Científico
Derechos de autor 2021 Karen Gisela Pinargote Montenegro, Pablo Vidal Fernández
Esta obra está bajo licencia internacional
Creative Commons Reconocimiento-NoComercial-CompartirIgual 4.0
.